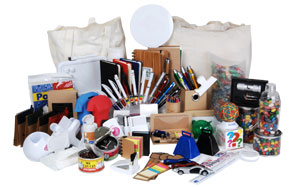 How do you reach 20 million consumers without paying for TV time? Well, Levi's actually did it successfully with a guerrilla marketing campaign where they had some 75 single women race towards a pile of men's jeans, snag a pair, and search among 75 shirtless single men who fit the jeans they grabbed. Media covered the whole thing for free and it gave the brand further exposure for its product. Of course, hiring the people to execute this guerrilla marketing came with a price. When your business is in its infancy, you don't have to resort to such pricey gimmickry to get exposure.
Promotional items
It's a billion-dollar industry. Many businesses, in short, still rely upon the successful results that promotional products provide because manufacturers are doing brisk business. Across the globe, companies are getting pens, caps or headwear, bags, mugs, office or desk accessories, and other items branded with their company logo as annual giveaways to loyal customers or business partners, as promotional supplements to a particular campaign, and as freebies at the most important industry events like trade shows.
As a new company, your advertising budget might not bear the same flexibility in comparison to most established companies. It wouldn't make sense to suddenly launch an expensive marketing campaign with an elaborate set-up, and bank on successful results that will show up in your first quarter sales report. Of course, you'll still need to come up with a solid—albeit inexpensive—advertising plan that might involve either mainstream media like TV or alternative media like the Internet, which could prove to be less costly than arranging for a TV spot. There is a promotional product for every budget.
But your TV or Internet advertising campaign would fare exceedingly better if you're able to hold your target consumers' attention. Promotional products can achieve exactly that, as Advertising Specialties Institute (ASI), a media and marketing giant, has discovered. ASI's "Global Advertising Specialties Impressions Study" discovered that a small business using promotional products can get the same sort of exposure that's normally enjoyed by large-scale companies.
Products That Relate
The key is to pick the perfect sort of item for your company. Naturally, you wouldn't want to just order boxes and boxes of pens if you happen to be running a video-based Internet company that aggregates videos off social sites into one, fuss-free site. A pen would simply be too dull, even though it tops the global market for most used promotional products, and would be lost on your tech savvy market. A USB flash drive bearing your company's logo might be better and should reinforce your brand's message.
Australian companies actually use a lot of caps for their promotional products. Because of the usually hot weather and with Aussies always wanting to be out and about, a cap prominently bearing your company's logo will provide repeat exposure for your brand. That cap—along with the person under it, of course—can go anywhere (even abroad), which means your company's advertising efforts, no matter how modest, achieves wider reach.
Arranging one wildly engaging advertising campaign can create lucrative results but it can also seriously cut into your business costs. Why go with the expensive option when you can easily go with the cost-effective choice of supplementing your reasonably priced regular advertising efforts with promotional items and get the same kind of results?