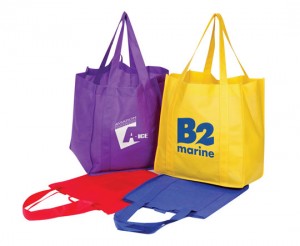 You'll never want to go out shopping without one. Eco-friendly bags are the definition of useful when it comes to choosing a promotional product to use for your business. Everyone can find a use for them and can also get a sense of joy out of knowing they've chosen an eco-friendly option, as opposed to many supermarkets' choice of plastic bags. And the great thing about them is that they don't only have to be used when heading out to the market for groceries, either. It's a bag, after all. You can put anything in it. That's the point! Use and reuse.
For the same reason they are so useful to customers, they are also great promotional products as well! When choosing a product to help promote your business, there are always a few key aspects to look for. For one, you want a product that the customer will find useful. You also want something that will continue being used long after they've received it. Finally, it needs to be something that will stand out and be seen by others, not just the person who has it. They also have a large print area for all your information and logos. Promotional bags fit all of those descriptions, making it a great choice for any business.
Promotional bags are possibly the leading product to use when trying to get your name out there and seen. This is because bags have such a high rate of reusability that people are continuously at the market using them to bag their groceries. It's because markets are such public areas that bags work so well as a means of getting your name out there and known. As of the last few years it's not such an uncommon sight to see customers only using bags they've brought with them, rather than using the store provided plastic bags.
In addition to being so reusable, most promotional bags are 100% eco-friendly, which is a huge selling point these days. People are all about helping the environment in any way they can, whether it be big or small. Since many people just simply don't have the time to perform huge charitable acts due to the lifestyle many of us live, eco-friendly bags are a great way for people to feel like they're doing their part. And when it comes down to it, they really are. The best part is that when choosing such products for your business's promotional campaign, you're also showing your customers that you value the same things they do.
Another great thing about promotional bags is that they aren't all the same. You can select from a variety of sizes, shapes, and colors. There are even eco-friendly bags that are also coolers, for those shoppers bringing home items that could easily spoil if left out in the heat for too long. They also make for great carry-along coolers for picnics, sporting events and other outings, allowing customers to carry their favorite snacks and beverages along with them.
When it comes to selecting the right promotional product for your business, you really can't go wrong with an eco-friendly bag. They're great at getting your name and message out to multiple people, giving you the desired effect over and over again. Customers also love them, as they're very practical and useful. After all, everyone has stuff to put in a bag, right?