Pen Z244
Pen Z244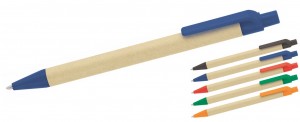 Push botton retractable ballpoint, with barrel made from recycled paper.

Dimensions:
 143mm
Screen Print:
 50 x 20mm
Pad Print:
 50 x 7mm
For more information on this product please contact us or call on 1300 935 320.
We are ready to answer any of your questions or give you a prompt quote.