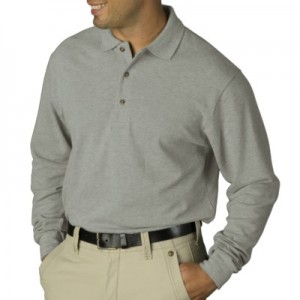 In these times of continuous improvement and never-ending changes, consumers seem to be looking for new things all the time. This is also true when it comes to clothing, and finding items that endure the test of time and remain in the preference of consumers is not that easy. Long Sleeved Polo shirts for men are among the few fashion statements that have proven to be resilient to market fluctuations over decades and work well as promotional items. In this article we will talk about some of the advantages related to using polo shirts to promote a business and a few pointers to keep in mind while wearing yours.
Polo Shirts for Men in Promotional Campaigns
When it comes to using promotional clothing to market a business, knowing your target market well is one of the most important things to do. Although there are no specific restrictions when it comes to using long sleeved polo shirts to promote a business, there are some things that make more sense than others. Let's think of an example for a moment, let's say you are an entrepreneur who is trying to reach out to male golf enthusiasts with ages that range from 25 to 45; would thoughtfully designed polo shirts seem viable to connect with this specific demographic? The answer is: Yes. On the other hand, reaching out to teenage surfers might require a different approach.
What Is a Right Way to Wear Long Sleeved Polo Shirts for Men?
Although there are no government regulations when it comes to wearing clothes in public (as long as you are wearing some, police men will not bother you), there are some unwritten rules when it comes to Polo shirts for men. First of all, it is highly advisable that you leave the top button undone as a minimum in order to project a casual and relaxed look even in formal situations. It is also recommended that you avoid wearing pants or jeans of the same color as the long sleeve Polo. If you are planning to attend a relatively formal event or go to work using a long sleeved polo shirt, use a pair of shoes that match the color of your pants and tuck the shirt in (brown or black shoes are all you need, no need to buy blue shoes to match your jeans). On the other hand if you are wearing jeans in a casual environment wearing it untucked is perfectly acceptable, this is particularly true if you are holding a beer with your right hand.
I hope these tips related to long sleeved polo shirts for men are useful for business projects, just give the preferences of your target market in mind and everything will be fine.