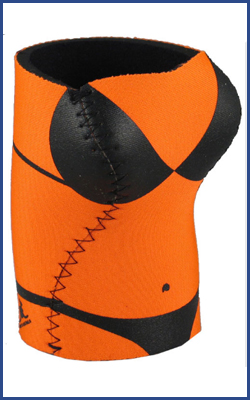 Promotional products have been used as means of advertisement as well as a form of customer appreciation for a long time. Generally when someone thinks of a product being used as a form of advertisement, the usual list of items comes to mind: pens, t-shirts, baseball caps, stubby holders, all sporting a particular company's name or logo. We've all seen them.
Giving out promotional products is great form of advertisement for a lot of companies. Generally the products are fairly cheap, yet useful to the customer. It's cheap and easy for the company and helps to create a sense of appreciation for their customers or staff. It helps to boost the image of the company and stimulate sales. But sometimes a company doesn't think the usual items will suffice. Instead, they decide that they need to spice things up and give their customers something truly weird and original to help grab attention.
By introducing an out of the ordinary product, a company helps create the same effect with their customers, but also leave a more lasting impression for the end user too. But what kinds of truly weird or out of the ordinary things have been done?
Many pet-friendly businesses keep dog biscuits and treats on hand for those customers who happen to bring their dog along with them. It's pretty likely that many of you have gone through the drive-thru of a bank if you are visiting the USA with your dog and received a dog biscuit at the end of your transaction. Giving out dog biscuits for customers' dogs is a pretty common practice now. But often businesses will take it one step further. Many businesses have actually started printing edible logos on the treats. This has become increasingly popular at sporting events, as sports teams have started printing their team's logo on dog biscuits so even your dog can be a fan of your favorite team.
When it comes to the film industry, film companies have been known to do some pretty ridiculous things to help build hype for an upcoming movie. A great example of this is, prior to the release of Park Chan-wook's film Thirsty (an unconventional vampire film in its own right,) the production company decided that releasing IV bags of fake blood would be the best way of reminding potential viewers of the film's content. By far one of the most unconventional and weird items out there!
Originally a Japanese character marketed towards young females, Hello Kitty is now a hugely popular phenomenon, whose audience now includes both sexes and all ages. Hello Kitty has appeared on quite literally anything. The range of products goes from simple items such as toys and dolls all the way to household appliances. Hello Kitty even appears on jets and is an optional design for checks and debit cards. So what kind of product could Hello Kitty possibly be featured on that would be truly weird and out of the ordinary? How about an entire line of Hello Kitty alcohol? That's right. Beck's, a German brewery, has an entire line of Hello Kitty beer. Usually when you think of beer and Hello Kitty individually, you won't make the connection between the two on your own. You can also find Hello Kitty wine, sprites, and liquor.
When it comes to promotional products, there are some things you just couldn't imagine having a brand name or company logo slapped onto it. But as hard as it is to believe, chances are it has been done by somebody somewhere.