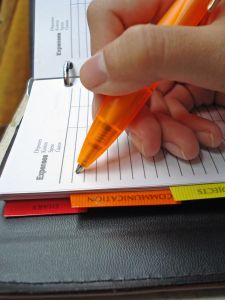 When you're starting a business of your own, there are several different things you need to think about. One of those is the way you're going to keep track of everything you need to manage. The good news is that mobile phones are making it even easier to do just that. We're going to show you the top five apps we've found for you.
BUDGT
This app is only $0.99 which makes it inexpensive enough for anyone who needs it for personal or business use. It also doesn't require any account information so you don't have to worry about security breaches. It simply gives you a budget allowance and a way to track your spending. For more information check out this website:
MoneyWise
Available in a free version with ads or a pro version for $6.99, this app is simple to use for Android 4.x devices. You get to ad in a description of the expense, a category and tags which help you sort out categories. It even lets you create charts and graphs that can be exported easily. Learn more at their website over here:
https://play.google.com/store/apps/details?id=com.handynorth.moneywise_free&hl=en
Receipts Pro
Available for only $4.99 (though a free version is available as well with limited features) this app allows you to create personal and business accounts and then add receipts. It even lets you use iTunes, Dropbox, Google Docs and more or even export to Excel or a PDF. More information is available here:
https://itunes.apple.com/us/app/receipts-pro-upload-business/id290776890?mt=8
Saver
This app has a lot of great reviews for its ease of use and the way that it formats information. It also has plenty of built in tags and costs only $4.99. If you need a simple to use method of tracking all your expenses, this is definitely a great option.
https://itunes.apple.com/us/app/saver-control-your-expenses/id429136857?mt=8
Expensify
The final app we have is available for Apple devices and allows you to scan in receipts with your camera. It also lets you email expense information and keep track of all your transactions. You'll even be able to track all credit cards and bank accounts with this app available completely free at the app store. Learn more about it here:
These apps come in at a range of different prices from completely free to $6.99. This means that you can easily keep track of any expenses you have for your business and your personal life for a reasonable price.
If you found this article to be useful, please share it with your friends on Facebook and Twitter and let them know about this useful tools.