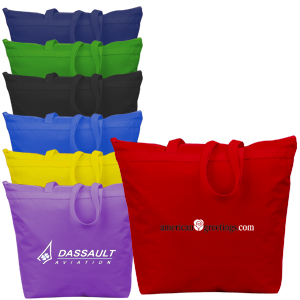 These days' promotional products are hugely popular in spreading brand name awareness for just about any company. By using these items, a company ensures a variety of things. For one, they ensure existing customer happiness by providing them with products they can use. In addition, they're a great form of advertisement. But promotional items haven't always been used in this way. While they haven't actually changed all too much, the way companies have begun using them certainly has. There is an item for almost every price point.
The first use of promotional products (or what were than known as novelty and specialty goods) was in the USA in 1789 during George Washington's inauguration, by using commemorative buttons. The plan was to help gain people's attention for the inauguration that was about to take place. While this isn't exactly the same as today's branded item being used to gain attention for various companies and organizations, the idea was the same and everything has stemmed from those buttons.
Various different products were used throughout the 1800s (calendars and pens mostly,) but the use of promotional merchandise as a means of advertisements didn't occur until the mid-to-late 1800s. A man named Jasper Freemont Meek, who owned a newspaper and printing service in Ohio, saw a young school girl drop the books she was carrying. This simple event spurred Meek into revolutionizing the use of printed bags. He proceeded to go to his close friend, the owner of Cantwell Shoes, with an idea. The idea was to use Meek's printing service to print the words "Buy Cantwell Shoes" on a number of burlap sacks and give them out to any child who came into his store. The production and use of promotional products took off from there.
Meek (along with many others who jumped at Meek's new idea) began producing printed products for a number of other companies. You've probably even heard of some of the companies that Meek helped produce products for. Coca-Cola is probably the most notable (Meek produced metal advertising trays for Coca-Cola that are now practically priceless collectible items.)
By the early 1900s the Advertising Manufacturers Association was founded by 12 promotional manufacturers of the time. The Advertising Manufactures Association continued to grow and expand during the following couple of decades, only taking a slight hit during the Great Depression, but coming right back up by the 1940s.
This trend quickly spread around the world and today most savvy Australian business owners use branded merchandise to get their name into the marketplace, promote events and reward loyal customers. Products available range from the more basic pens and notepads through to a whole range of innovative corporate gifts, clothing, bags, electronics and novelty items. From George Washington inauguration buttons to just about every kind of promotional product you could possibly imagine, the corporate branding industry has come a very long way.