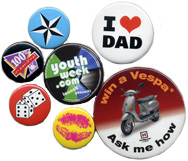 Whether you're planning on purchasing custom merchandise for personal use or to help promote a business, you're going to need to decide how the products are going to be printed. Generally any company that is offering a printing service will know what kind of printing process is best for you, but it's always good to know why you're receiving that particular process. The two most common printing processes are screen printing and dye sublimation printing.
Both will get the job done, but in order to decide which option is best for you, there are a number of factors you need to take into consideration. So what exactly are the differences between the two?
Screen Printing
The process of screen printing involves creating a number of "stencils" and then layering the colors onto each other to create a finished product. Screen printing is essentially creating an image on the product. Unfortunately this means that it is more prone to fading and cracking. Generally screen printing is not ideal for more complex designs or if you are basing the design off of an actual photo image, as the process of creating each individual stencil for the design can be a very long and tedious one, not to mention expensive.
Usually screen printing is best suited when creating an image of three or fewer colors. However, it is ideal for orders of larger quantities, as the printing process is actually very fast. In addition, screen printing tends to be much cheaper than dye sublimation.
Dye Sublimation
The process of dye sublimation is the process of actually dying the material that is being printed on. Usually dye sublimation is reserved for prints done on textile products, such as t-shirts. However, dye sublimation has recently come a long way and is now offered on a variety of different materials, including plastic and metal. Because the material that is being printed upon is actually being dyed rather than just having an image layered on top of it, dye sublimation tends to last much longer without fading or cracking than screen printing. As a result of this, it does tend to be a bit more expensive than screen printing. However, if you're looking for a higher quality product that needs to last, dye sublimation is the way to go.
If you compare two products that are exactly alike, save for the printing process that was used to make it, you generally won't be able to see a huge difference between the two. The biggest difference will be the feel between the two. You won't be able to feel any difference in the material when dye sublimation has been used, but you will usually be able to feel the layer of ink used during screen printing. Sublimation on garments is very effective with a lot more scope for creativity.
It's always a good idea to take into consideration the different printing options you have, as well as the various factors and differences they present. Choosing the right process for your particular needs can make a huge difference on the effect your product will have on potential customers, as well as how well-made and durable the finished product turns out.