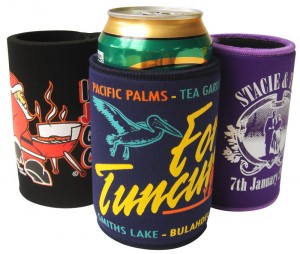 The world of promotional products is full of options, and deciding which products are best for a particular business is an important decision. Numerous factors should be taken into consideration such as desired customer base, budget, and overall aim of the promo product. Are the items used to attract new customers, thank existing ones, offer additional income and advertising, or a little bit of all of the above? Below are some details business owners should take into account when considering ordering printed stubby holders.
First off, what is a printed stubby holder?
A stubby holder is made of neoprene fabric designed to fit around beverages of various sizes and shapes, usually beer or soda cans and bottles. Stubby holders are used world-wide, but referred to a bit differently across the globe. Some consumers may know them as beverage or can koozies, coosies, cozies, coolers, coolies, huggers, or huggies. The terms stubby holder and stubby cooler are unique to Australia. A stubby holder's primary purpose is to maintain the cool temperature of refreshments like a personal cooler hugging around the container. Stubby holders are printed with designs to make them more exciting, or in the case or promotional products, to promote a certain business or event.
What are the advantages of using printed stubby holders as promo products?
The main advantage of stubby holders as a promo product choice is cost. When purchased in bulk by sea freight they can be very cost effective. Naturally being able to inexpensively provide costumer gifts, hand out promo items, or even sell them to loyal fans to recoup costs is a major perk. A good promo item brings in more revenue through sales and new customers than it costs and that's easy if the overall price is low.
Stubby holders are also frequently used in homes which can add to the household-name notoriety of a business. The more customers who know and use a business's name or logo, the more brand recognition they'll have, which leads to more customers.
Are there any disadvantages to printed stubby holders as promo products?
As with any advertising decision, it's best to know what you're investing in and why before doing so by asking simple questions like those above, once business owner's have the answers, they can make informed choices about the right promotional items for their business, including printed stubby holders.