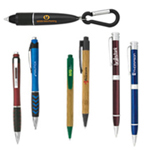 Printed pens have always been a popular and useful promotional tool, and with good reason! Pens are one of those things you can never have too many of. They're that much needed item that never seems to be where it is when you need it, so for many people the more pens they can get their hands on the better. This is why so many businesses and organisations find promotional pens to be a fantastic item.
Ensure the Pens You Choose Work Well
Unfortunately, though, many businesses don't do enough research when ordering printed pens. After all, to many people one pen is much like another! However, this is actually far from the case. What people hate more than anything are pens that just don't work. It doesn't matter how flash a pen looks if it fails pretty much straight away, and let's face it, if you're trying to promote your business in a positive light, the last thing you want is to give your customers or clients a promotional product that just doesn't work. If you do, they're more likely to be annoyed with you than pleased that you gave them a free pen!
Choose a Type of Pen that Suits Your Business and Customers
There are numerous sorts of printed pens to choose from. Some companies choose a stylish and sophisticated design, while others choose something funky and colourful, there are plenty of options to choose from which lets you find something that really suits the sort of business you've got. More importantly though, is how well the pens work. Before choosing any type of pen, even one that looks good, you need to make sure it will last for a reasonable length of time and isn't likely to break easily or run out of ink too fast. See if the company will send you samples of a number of different pens so you can use them for yourself and work out which will be the best for your business.
Be Careful When Deciding on Quantity
When choosing how many printed pens to purchase, you need to consider how many people will likely receive the pens. You may want to start out with a fairly low number and see how you go, and how well this particular method of promotion works for your business. If people really like your pens and they go fast, you may want to purchase a larger order. It's important to experiment first, though, before going all out.
One Type of Pen or a Range?
Some companies will choose a range of different printed pens and give their customers the choice. This is a great idea as people will be able to choose a pen that suits them, and which therefore may be more memorable or meaningful to them than just a random pen that they wouldn't normally use. Possibly a large quantity of plastic pens for a general give away and then a smaller number of quality metal pens for good customers. Buying pens as a promotional tool is a great, inexpensive way of promoting your business, and actually providing an item of use to your customers. It's something all savvy business owners need to consider.