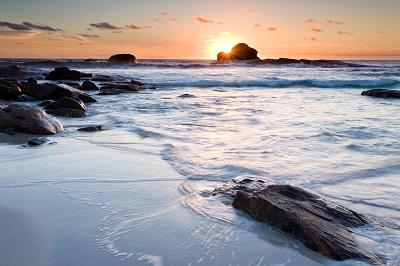 Taking in everything South West Australia has to offer can be a very daunting task. With so much to offer, you could easily spend months upon months trying to get the whole experience. The region has such as wide variety of activities to enjoy, from visiting wineries to boating, surfing, fishing, rock climbing, bushwalking, canoeing to whale watching. Of course there is always the option of simply lounging on the beautiful beaches of the western coast and chilling out. The region also has a wide variety of landscapes to explore. There is just so much to offer!
Margaret River is one of the most popular tourist destinations for the region. Margaret River is a relatively small town located in the valley of the river by the same name. Being a small town, however, does not mean it doesn't have a lot of to offer. The town draws around 500,000 tourists a year, all coming to enjoy the many world class wineries in the region and beautiful surroundings. Visitors can also enjoy a beautifully scenic canoe or boat ride down the river, as well as taking in the marvelous beaches and world-renowned surf breaks. The coast also offers a number of amazing caves to explore, for those looking for a little adventure.
Albany, a port city located on King George Sound on the far South Coast, is another popular destination for those looking for a beautiful location to spend their vacation. Famous for its history in whaling that is now preserved in a museum. Of course taking a boat trip out for a more traditional whale watching experience is an absolute must. Albany is also known for its great diving experiences. Located just off the coast, the HMS Perth Dive Wreck is a must for anyone even remotely interested in diving.
Walpole is another great stop for anyone interested in taking in the wide variety of scenic experiences the region has to offer. Located just 10 minutes north of Walpole, the region boasts the well-known Valley of the Giants Tree Top Walk. By climbing to the top of the walk, you'll find yourself over 40 meters above the ground, with a bird's eye view of some of the tallest trees in the world. It is truly a breathtaking experience.
It wouldn't be appropriate to leave out the magnificent city of Perth. The capital and largest city in Western Australia and fourth largest city in all of Australia, it is a truly beautiful place. The Swan River divides the city north and south and has all manner of water sports as well as superb wineries. Kings Park is an elevated park that offers great walking tracks and superb views of the Swan River and downtown Perth.
For those out there looking to undertake a bit of an adventure, there is always the Bibbulmun Track, a walking trail of over 1,000 kilometers, which leads all the way from Albany to Perth. With plenty of camping locations scattered along the trail, it is a great choice for anyone who wants to get out and experience nature the way it should be.
With such a wide variety of activities and locations to enjoy, South West Australia is without a doubt one of the best kept secrets in the world. There is literally something for everyone and it would practically take a lifetime to see and experience everything there is to offer. Planning one trip simply will not be enough.