If you want to improve your business and become an amazing entrepreneur then you want to make sure that you're finding out more information about entrepreneurs that have succeeded in the past. You want to learn what has worked for others by reading business biographies because they will help you to make the same great choices as other successful people. Here are a few great books that you may find interesting: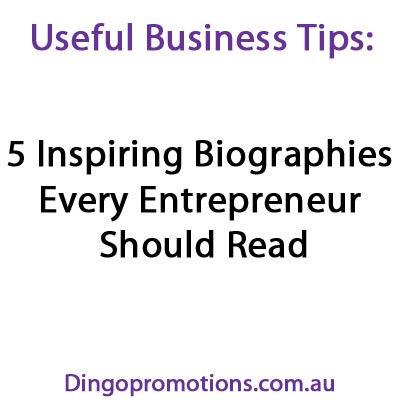 1. Steve Jobs by Walter Isaacson
In this book you will learn more about the life of Steve Jobs, founder of Apple. You will be able to learn more about him and the way that he was able to be so successful throughout his life and even after his death.
2. Personal History by Katharine Graham
If you don't know Katharine Graham you definitely will after you read this book. Katharine is one of the most admired women in American history and she has a legacy that will continue for generations.
3. Delivering Happiness: A Path to Profits, Passion, and Purpose by Tony Hsieh
Zappos has grown to become a billion dollar company in a very short period of time. If you are looking to make your business better and better without making any mistakes then this is a way to get started. Zappos made the way, and by knowing the mistakes they made you will be able to avoid them for yourself.
4. Made in America by Sam Walton
A self-made man Sam created Wal-Mart out of just a small dime store. This chain is now world-wide and it makes billions yearly. This is a company that your business will want to emulate and by understanding this story, you will be able to learn from their successes and failures.
5. Only the Paranoid Survive by Andrew S. Grove
Corporations throughout the country are changing and this book is all about what you should know to make sure that you are keeping up with the changes. Learn what challenges corporations face and learn how to avoid them.
Do you enjoy reading? Find a list of 5 Influential Marketing Books Here
If you've read an amazing biography then make sure to share it with us. If you love these books and this article then share it with your friends on your favorite social media site.